Shop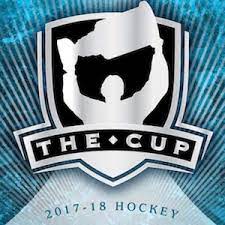 1
17/18 Upper Deck The Cup Hockey Hobby Single Box Random Teams #2
$54.95
27 in stock
Break Type

Random Teams – Participants names and team names are entered into the randomizer on random.org… The lists are then randomized individually dependent on a roll of the dice. Both lists are then copied and pasted into a spread sheet. The participant on the left is matched with the corresponding team on the right. All cards pulled for that team belong to the owner.

Description

---

Break Type: Random Teams Box

Total Spots: 31 – All NHL Teams In

Minimum Hits: 5 Autograph or Memorabilia Cards

---

Configuration: 3 boxes per case. 1 pack per box. 6 cards per pack

– Get 2 Autographed Patch cards in every tin!
– Featuring 1 Autographed Rookie Card from the amazing 17-18 rookie class & 1 Additional Auto-Patch Card!
– NEW! Find super rare Razor's Edge cards featuring game used skate blades from superstars both past and present.
– NEW! Find a variety of Rookie Auto Patch Tributes (#'d to 10), paying homage to popular rookies auto patch designs of the past.
– Look for rare "The Show" cards based off our beautiful UDA pieces featuring some of the best legends in the game, including 2018 HOF inductee Willie O'Ree!
– Look for the big time booklet cards, including the highly sought-after Autographed Monumental Rookie Patch Booklets, Ticket Inscription Booklets, Legends of Hockey Triple Signed Booklets, and the 9-Way Signature Booklets.
– Exquisite Hits!
– Find Exquisite Rookie Auto Patch cards numbered to the featured players uniform!
– Search for the elusive 1-of-1 Exquisite Rookie Auto Shield!
– Look for stunning NHL Glory Autograph cards, limited to a mere ten serial #'d copies per card!
– Featuring a chrome NHL Shield embedded under an acetate surface with an on-card autograph!
– Collect Notable Nameplate Cards of your favorite player!
– Each card features a full letter patch from a game-used jersey, collect all the cards to spell your players name!
– Grab superb memorabilia inserts like, Property Of, The Cup Trios, Quads or all-new Sixes – Jersey, Patch, Tag and the New Button cards!