Description
This Break Qualifies for the NFL Shield Bounty Promo!
---
If your team hits a Full Size Shield in this case break you will win the bounty reward of Firehand Points. If there is no Shield pulled in this break the bounty will increase by $50 for the next NFL Shield Promo break.
**Check the Marquee at the top of the site for current Bounty Prize Total.
---
Youtube Live Feed: FirehandCards Live on Youtube
Breakers.tv Live Feed: FirehandCards Live on Breakers
---
Break Type: Random Divisions Case (12 Boxes)
Total Spots:  8 – 1 NFL Division Per Spot
Minimum Hits:  48 Autograph or Memorabilia Cards + 36 Base or Inserts/Parallels
---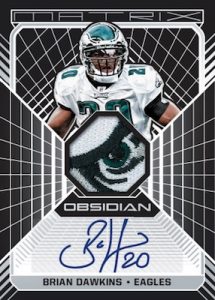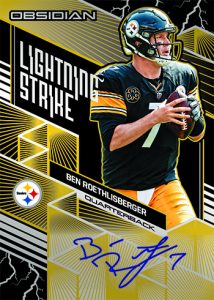 ---
Configuration: 12 boxes per case. 1 pack per box. 7 cards per pack
BOX BREAK:
– 4 Autograph Or Memorabilia Cards
– 2 Base Electric Etch Parallels Or Inserts
– 1 Base Card
All Sequentially Numbered To 100 Or Less
---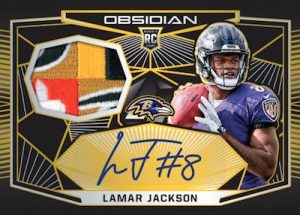 PRODUCT HIGHLIGHTS
– Brand New. Obsidian Football takes opti-chrome technology to the next level with Electric Etch parallels!
– Obsidian Football delivers an eruption of sharp, edgy and contemporary designs!
– Rookie Jersey Autographs and Rookie Jersey Ink showcase the historic NFL Rookie Class of 2018 in stunning opti-chrome fashion, all sequentially numbered to 100 or less!
– Find the NFL's most electric current and retired stars in Matrix Material Autographs, Aurora Autographs and Lightning Strike! Find the likes of Tom Brady, Aaron Rodgers, Peyton Manning, Matt Ryan, Carson Wentz, Joe Montana, Ben Roethlisberger and more!
– Sleek die-cut designs come alive in Rookie Eruption, Cutting Edge and Galaxy Gear! Also find the one-per-case insert, Vitreous!
---