Shop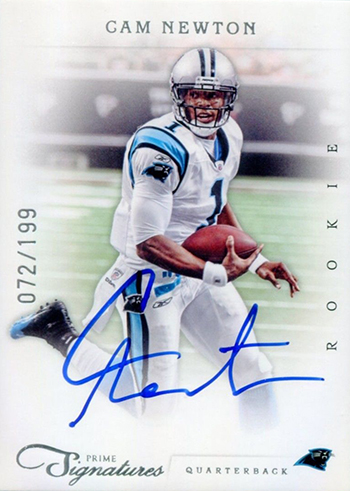 30
2011 Prime Signatures Football Master Case Random Teams #6
$34.95
Out of stock
Break Type

Random Teams – Participants names and team names are entered into the randomizer on random.org… The lists are then randomized individually dependent on a roll of the dice. Both lists are then copied and pasted into a spread sheet. The participant on the left is matched with the corresponding team on the right. All cards pulled for that team belong to the owner.

Description

Breaker: Chad

Youtube Live Feed: FirehandCards Live on Youtube

Breakers.tv Live Feed: FirehandCards Live on Breakers

---

Break Type: Random Teams Case

Total Spots: 32 – All NFL Teams In

Minimum Hits: 30 Autographs Base & Parallels

---

Configuration: 30 boxes per master case*. 1 pack per box. 4 cards per pack.

*Each master case contains Three 10-box inner cases.

BOX BREAK:
– 1 Autograph Max Seq numbered to 249 or less
– 2 Commons Seq numbered to 499
– 1 Other Common or Parallel.

CASE BREAK:
– 8-9 ON CARD Rookie Autos from the 2001 Rookie Premiere, includes players like Andy Dalton, Blaine Gabbert, Cam Newton, Christian Ponder, Daniel Thomas, Demarco Murray, Julio Jones, Mark Ingram, Randall Cobb, Torrey Smith, Delone Carter or A.J. Green.
– 10-11 Rookie Autos includes players like Doug Baldwin, Dane Sazenbacher, Terrelle Pryor, Mason Foster, Casey Matthews, Aldon Smith, Denarius Moore, Jacquizz Rodgers, Lance Kendricks, J.J. Watt, Roy Helu and Ryan Kerrigan.
– 10-11  Veteran/Retired Autographs includes player like Aaron Rodgers, Peyton Manning, Adrian Peterson, Tom Brady, Charles Woodson, Drew Brees, Michael Vick, Calvin Johnson Jr., Ray Rice, Mark Sanchez, Tim Tebow, Larry Fitzgerald, Troy Polamalu, Matthew Stafford, John Elway, Barry Sanders, Dan Marino, Joe Montana, Joe Namath, Brett Favre, Jerry Rice, Emmitt Smith, Troy Aikman, Jim Brown, Jim Kelly, Deion Sanders, Cris Carter and Randy Moss.