Shop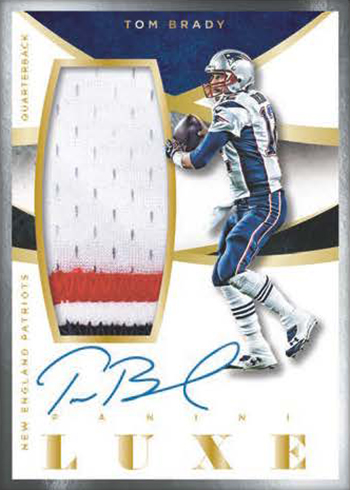 5
2015 Panini Luxe Football Case Random Teams #8
$27.95
Out of stock
Break Type

Random Teams – Participants names and team names are entered into the randomizer on random.org… The lists are then randomized individually dependent on a roll of the dice. Both lists are then copied and pasted into a spread sheet. The participant on the left is matched with the corresponding team on the right. All cards pulled for that team belong to the owner.

Description

Youtube Live Feed: FirehandCards Live on Youtube

Breakers.tv Live Feed: FirehandCards Live on Breakers

---

Break Type: Random Teams Case

Total Spots: 29 – 3 Combos: Patriots/Bills,  Panthers/Giants,  Texans/Bengals

Minimum Hits: 20… 15 Autographs & 5 Memorabilia Cards (Many Cases Produce More Hits than This)

---

Configuration: 5 boxes per case. 1 pack per box. 4 cards per pack.

Box Break
– 3 Autographs
– 1 Memorabilia Card

PRODUCT HIGHLIGHTS
– Each box delivers three deluxe on-card autographs and one premium jumbo memorabilia card!
– It features a diverse autograph checklist of past, present and future stars, with signatures surrounded by a sleek metal-framed border!
– Look for jumbo prime swatches of top stars and rookies in Luxe Memorabilia Prime and Memorabilia Die-Cuts Prime!
– Find oversized memorabilia paired with an on-card autograph in Luxe Memorabilia Autographs!
– Every card in the set is sequentially numbered to 99 or less!