Shop
Sorry, this product cannot be purchased.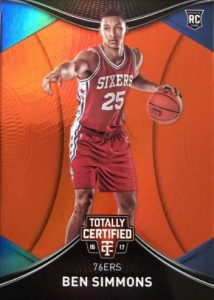 8
2016-17 T-Cert Basketball Case Random Teams #35
$25.95
Out of stock
Break Type

Random Teams – Participants names and team names are entered into the randomizer on random.org… The lists are then randomized individually dependent on a roll of the dice. Both lists are then copied and pasted into a spread sheet. The participant on the left is matched with the corresponding team on the right. All cards pulled for that team belong to the owner.

Description

*This break is scheduled for Monday 5/14

Two Lucky Participants from this break will win a Team in our 2017-18 National Treasures Basketball Case Random Teams #13

---

Youtube Live Feed: FirehandCards Live on Youtube

Breakers.tv Live Feed: FirehandCards Live on Breakers

---

Break Type: Random Teams Case 

Total Spots: 28 – 2 combos of 2 Teams Each (TBD)

Minimum Hits: 24 Autograph or Memorabilia Cards  + SP Base PMGs! Rookies, & Inserts (All Cards Ship)

---

Configuration: 8 boxes per case. 8 packs per box. 5 cards per pack.

PRODUCT HIGHLIGHTS
– Look for Rookie Roll Call which features on-card autographs of the 2016 NBA Draft Class!
– Signed, Sealed, and Delivered showcases autographs from some of the top NBA players, yesterday and today!
– Find Prime and Patch memorabilia cards in Fabric of the Game, Fabric of the Game Rookies, and Totally Certified Materials. These versions are sequentially numbered to 10, five and one.
– Totally Certified brings a new look with eye-catching inserts, such as Franchise Foundations, Energizers, Return to Sender, and the incredibly rare The Mighty!
– Collect the Totally Certified rainbow parallels, including Gold (#'d/10), Green (#'d/5) and Holo Blue (#'d/1)!

BOX BREAK
– 1 Autograph
– 2 Memorabilia
– 4 Parallels
– 9 Inserts

PRODUCT DESCRIPTION

Totally Certified offers a variety of options in collecting autographs, memorabilia, and inserts, including color parallel versions that are sequentially numbered all the way down to 1-of-1!

ROOKIES
Collect your Rookie Rainbow featuring Red, Blue, Orange, Camo, Gold, Green, and Holo Blue, all sequentially numbered #'d/199 or less!

SIGNED, SEALED, DELIVERED
Pull some of the greatest NBA players ever in the 20-card Signed, Sealed, and Delivered autograph set! Look for the Mirror version (#'d/25).