Shop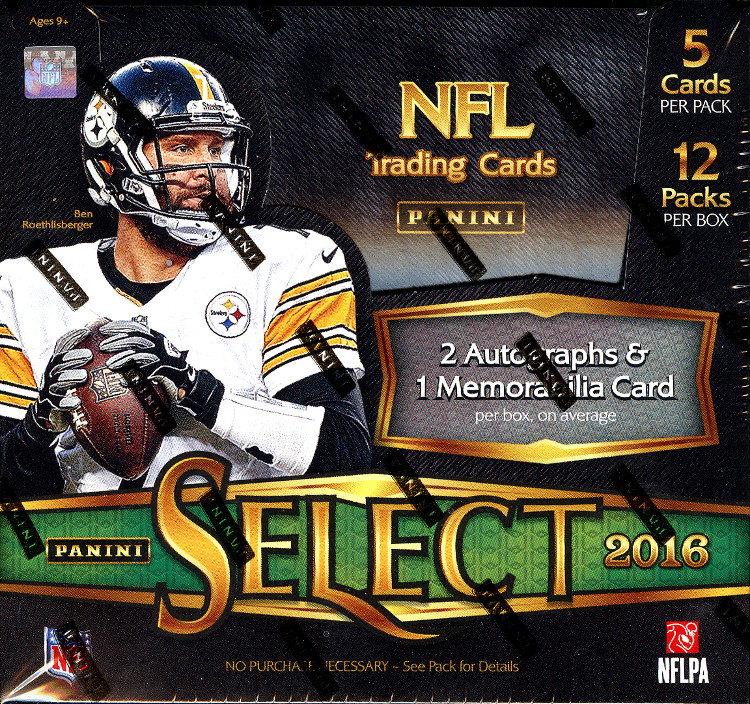 2016 Select Football 12 Box Case Break PYT #15
$22.00 – $379.00
Break Type

Description

Breaker: Chad

Youtube Live Feed: FirehandCards Live on Youtube

Breakers.tv Live Feed: FirehandCards Live on Breakers

---

Type: Pick Your Team Case

Total Spots: 32 – All NFL Teams In

Minimum Hits: 36 Autograph or Memorabilia Cards + Prizms

**2017 XRC Rookie Cards Will Be Randomized to All Participants

---

Configuration: 12 boxes per case. 12 packs per box. 5 cards per pack.

PRODUCT HIGHLIGHTS
– The 300-card base features three different subsets: Concourse, Premier and Field Level!
– Filled with jumbo rookie content! Find NFL Shields, Nike Logos, Laundry Tags and multi-colored patches!
– Chase autographed memorabilia cards of the top 2016 Rookies in Rookie Autographed Materials and Jumbo Rookie Signature Swatches, #'d/99 or less!
– Autographed memorabilia cards feature more than 50 veteran and retired NFL Stars!
– Find XRC's for the 2017 NFL Rookie Class, one per box!

BOX BREAK
– 2 Autographs
– 1 Memorabilia Card
– 14 Prizms (At Least 3 Numbered)

PRODUCT DESCRIPTION

BASE CONCOURSE, PREMIER & FIELD LEVEL
All-New, three-tier base set! Find a unique set of colors to collect for each respective subset!

ROOKIE AUTOGRAPHED MEMORABILIA
Chase autographed memorabilia cards of the 2016 Rookie Class, #'d/99 or less! Find multiple color variations: Copper, Purple, Orange, Tie-Dye, Gold and Black!

MEMORABILIA CARDS
Find over-sized memorabilia cards, featuring Nameplates, Brand Logos, Nike Laundry Tags and NFL Shields!