Shop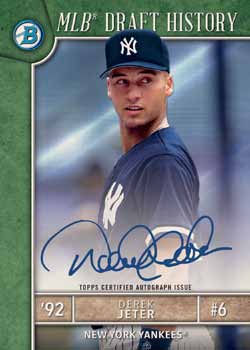 8
2017 Bowman Draft Jumbo Case PYT #18
Break Type

Pick Your Teams - Each team has it's own price. Price is dependent upon many factors, including desirability, number of possible hits, and potential value of those hits. Purchase the team you would like for the break and you will receive all cards pulled for that team.

Description

Breaker: Chad

Youtube Live Feed: FirehandCards Live on Youtube

Breakers.tv Live Feed: FirehandCards Live on Breakers

---

Break Type: Pick Your Teams Case

Total Spots: 30 – All MLB Teams In

Minimum Hits: 24 Autographs + Refractors, Inserts, & Chrome Base

---

Configuration: 8 boxes per case. 12 packs per box. 32 cards per pack.
The first MLB-licensed cards of the 2017 MLB Draft class will arrive in stores with 2017 Bowman Draft Baseball.

This year's Jumbo Box offering will contain three on-card chrome autographs per box, along with a compelling mix of new insert content and Base Cards of top MLB Draft picks.

A new autograph case hit – Class of 2017 Autographs – will be unveiled and will exclusively feature on-card autographs of 2017 MLB Draft 1st Round selections. Collect the entire autograph set!

Also look for revamped insert subsets including rare Image Variations and additional sequentially numbered Refractor parallels.