Shop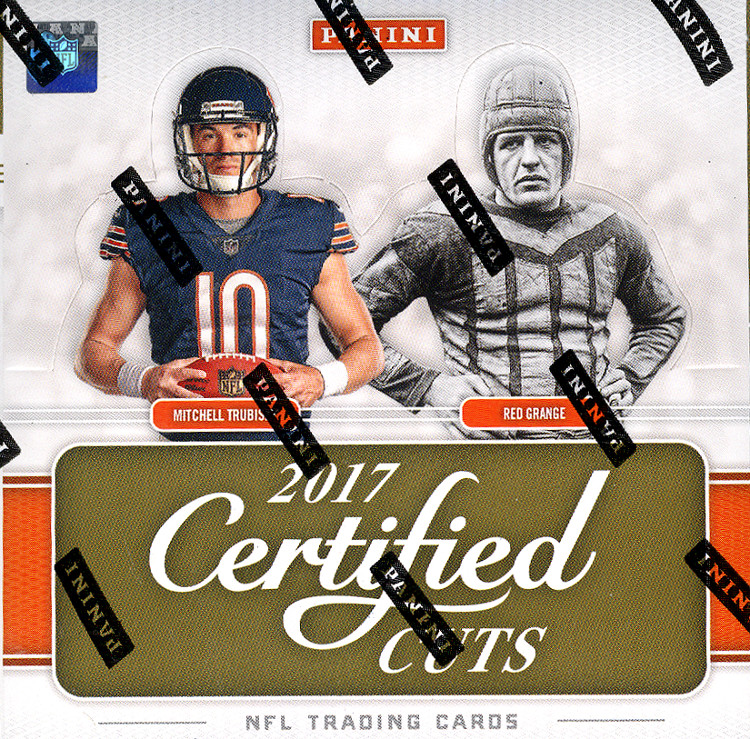 6
*BLACK FRIDAY SPECIAL *2017 Donruss Certified Cuts Football Half Case Random Teams #3
$19.95
Out of stock
Break Type

Description

Breaker: Chad

Youtube Live Feed: FirehandCards Live on Youtube

Breakers.tv Live Feed: FirehandCards Live on Breakers

---

Break Type: Random Teams Half Case (6 Boxes)

Total Spots: 30 – 2 Combos of 2 Teams Each (TBD)

Minimum Hits: 24 Autograph or Memorabilia Cards + Inserts 

***Regular Base does not ship

**Cut Signatures with no NFL Team on the card are randomized to all Participants

---

Configuration: 12 boxes per case. 12 packs per box. 4 cards per pack.


PRODUCT HIGHLIGHTS
– 240 card set including: 100 base, 50 legends, 50 Rookies and 40 Rookie Cuts.
– Look for cuts from: Walter Payton, Johnny Unitas, Red Grange, Reggie White, Derrick Thomas, Pat Tillman, Jim Thorpe, Bear Bryant, Knute Rockne, Pop Warner, JFK, Thomas Jefferson, John Wayne, Lucille Ball and many more!
– Look for dual booklet cuts from: Pat Summerall & John Madden, Curly Lambeau & Vince Lombardi, Tom Landry & Tex Schramm, Art Rooney & Chuck Noll, Walter Payton & George Halas and many more!
– All Retired, Legendary, Historical, Cinematic, and Collegiate Cut Signatures will be #'d 99 or less! All Dual Cut Signature Booklets and Cut Signature Memorabilia Booklets will be one-of-ones!
– Each case will contain at least 2 cut signatures from a combination of the Historical Cuts, Cinematic Cuts, Collegiate Cuts, Dual Cuts Booklets, Cut Memorabilia Booklet and Legendary Cuts signature sets.

BOX BREAK:
– 4 Autographs Or Memorabilia Cards Per Box (At Least 2 Autographs)

PRODUCT DESCRIPTION

BASE
Donruss Certified Cuts features a 100 card base-set with beautiful full bleed photography.

LEGENDS
Legends will all be #'d and have silver and gold parallels #'d as low as 10.

ROOKIE SCRIPTS
Top rookies from the 2017 NFL Draft are included in this autographed parallel to Rookies. Also look for Silver parallels #'d to 99 and Gold to 25.

ROOKIE CUTS
Inspired by a classic design, these cards include memorabilia along with simulated check pieces. Six different parallels, including ink variations, provide an exciting chase for collectors!

MODERN CUTS
Only the best made the cut for this checklist! Also look for Retired Cuts including HOF'ers Brett Favre, Jerome Bettis, John Elway and many more!

LEGENDARY CUTS
Legendary Cuts lives up to its name. This set features big names such as Johnny Unitas, Tom Landry, George Halas, Bronko Nagurski, Al Davis, Brian Piccolo and Norm Van Brocklin.

CUTS MEMORABILIA BOOKLET
Featuring cut signatures and oversize memorabilia pieces, these booklets are a cut above.

HISTORICAL CUTS
Look for Historical Cuts from Thomas Jefferson, JFK, Ronald Reagan & more. Also look for Collegiate and Cinematic Cuts!

DUAL CUTS BOOKLET
Dual cut signatures of some of the best pairings ever, including John Madden & Pat Summerall, Tom Landry & Tex Schramm and Spencer Tracy & Katharine Hepburn!