Description
Breaker: Chad
Youtube Live Feed: FirehandCards Live on Youtube
Breakers.tv Live Feed: FirehandCards Live on Breakers
---
Break Type: Random Letters Single Box 
Total Spots: 22 – 1 Random Letter Per Spot (No Q,U,X, or Z)
*Letter spots correspond to the first letter of the Player's Last Name. A Babe Ruth Relic would go to the "R" spot.
Minimum Hits: 5 Autograph or Memorabilia Cards
---
Configuration: 4 boxes per case. 1 pack per box. 5 cards per pack.
Leaf is proud to present the industries most comprehensive high end multi-sport product. No other product will deliver the quality of legendary content as 2017 Leaf Q!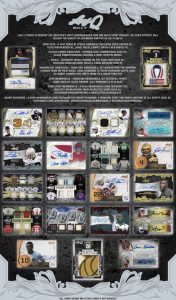 ---
Product Player List:
Al Kaline
Alex Rodriguez
Allen Iverson
Anna Kournikova
Artis Gilmore
Baron Davis
Barry Sanders
Bartolo Colon
Bernie Kosar
Bo Jackson
Bob Griese
Bob Hayes
Boomer Esiason
Brett Favre
Bruce Smith
Cal Ripken Jr.
Carli Lloyd
Carlos Beltran
Chevy Chase
Chris Webber
Cristiano Ronaldo
Curt Schilling
Dave Parker
David Ortiz
Deion Sanders
Deshaun Watson
Donovan McNabb
Doug Flutie
Drew Pearson
Earl Campbell
Ed "Too Tall" Jones
Eli Manning
Emmitt Smith
Ferguson Jenkins
Fernando Valenzuela
Floyd Mayweather Jr.
Gary Payton
Goose Gossage
Grant Hill
Harold Baines
Hideo Nomo
Hope Solo
Howie Long
Jason Kidd
Jason Varitek
Jeff Hornacek
Jennie Finch
Jerry Rice
Jim Kelly
Joe Carter
Joe Montana
John Cusack
John Smoltz
Johnny Bench
Johnny Damon
Jose Canseco
Karl Malone
Ken Griffey Jr.
Kevin Garnett
Kevin McHale
Larry Bird
Lawrence Taylor
Lionel Messi
Magic Johnson
Manny Ramirez
Mariano Rivera
Mark Gastineau
Martina Hingis
Marvin Harrison
Michael Irvin
Michael Strahan
Mike Tyson
Mike Williams
Mitch Trubisky
Morgan Brian
Neymar Jr.
Nolan Patrick
Nolan Ryan
Ozzie Smith
Pat Riley
Patrick Ewing
Pau Gasol
Pedro Martinez
Pelé
Pete Rose
Rafael Palmeiro
Ralph Sampson
Ralph Terry
Ray Allen
Reggie Jackson
Ric Flair
Rickey Henderson
Robert Parish
Roberto Alomar
Robin Yount
Rod Carew
Scottie Pippen
Shaquille O'Neal
Shawn Kemp
Stephon Marbury
Steve Nash
Steve Young
Sugar Ray Leonard
Terrell Owens
Terry Bradshaw
Thurman Thomas
Tim Brown
Tom Glavine
Troy Aikman
Warren Moon
Yogi Berra