Shop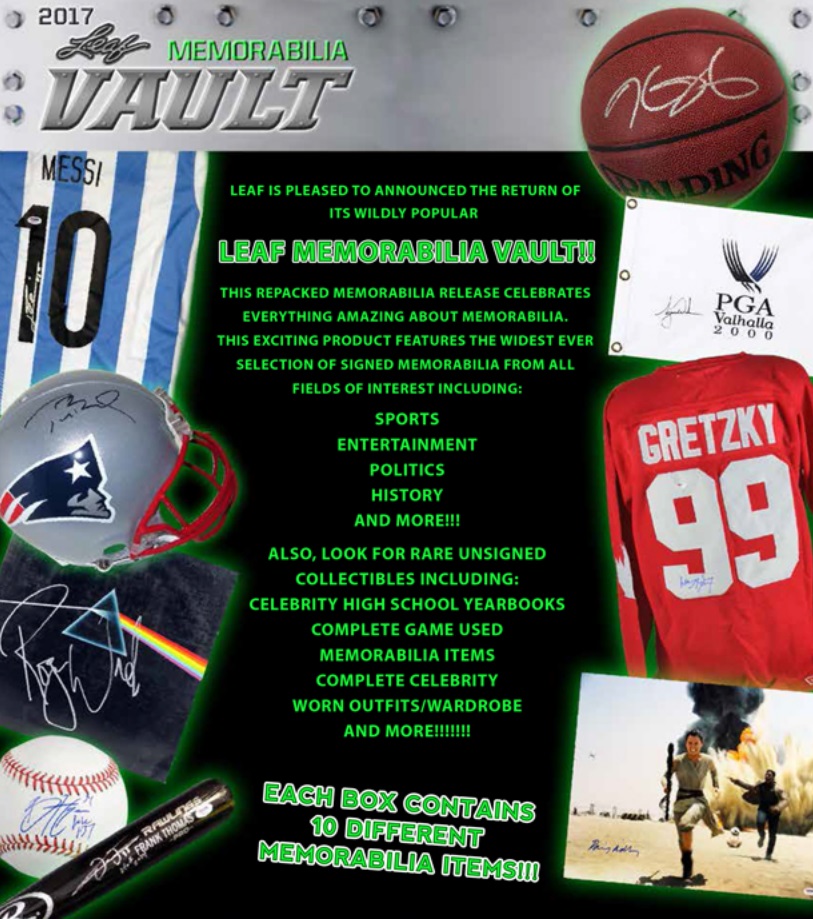 2017 Leaf Vault Memorabilia Random Hits Box Break #2
$119.95
Out of stock
Break Type

Description

Breaker: Chad

Youtube Live Feed: FirehandCards Live on Youtube

Breakers.tv Live Feed: FirehandCards Live on Breakers

---

Break Type: Random Hits Case

Total Spots: 10 – 1 Guaranteed Memorabilia Item Per Spot

Minimum Hits: 10 Memorabilia Items

Break Rules: Participants names are entered into one randomizer and the 10 hits are entered into a second randomizer. We roll the dice and randomize both lists that many times. The two lists are then lined up to assign the items to the participants.

---

Configuration: 10 items per box.

PRODUCT DESCRIPTION

Leaf is pleased to announce the return of its wildly popular Leaf Memorabilia Vault!! This repacked memorabilia release celebrates everything amazing about memorabilia. This exciting product features the widest ever selection of signed memorabilia from all fields of interest including: Sports, Entertainment, Politics, History and more!!! Also, look for rare unsigned collectibles including: Celebrity High School Yearbooks, Complete Game Used Memorabilia Items, Complete Celebrity Worn Outfits/Wardrobe and more!!!