Description
Guaranteed  to Break Friday Night January 5th, 2018 at 9:30 PM Pacific !!!
**Any spots not claimed by break time on Friday night will be taken by Firehand Cards.
With a retail price point of $27K, this is the most expensive box of baseball cards ever produced. There are 55 total autographs in the box set, including a 1/1 Cut signature & a 1/1 Aaron Judge (AL Rookie of the Year). Only the biggest names in baseball will be featured in this set. In addition there is 1 ticket to an all inclusive special event to meet Hank Aaron in Atlanta, GA. This group break of Transcendent Collection is a unique chance to own an item from the $27k box for just $440.  For a detailed description of the product, click here to view the official Topps sell sheet.
---
Breaker: Chad
Youtube Live Feed: FirehandCards Live on Youtube
Breakers.tv Live Feed: FirehandCards Live on Breakers
---
---
---
Break Type: Random Hits Case
Total Spots: 61 – 1 Guaranteed Hit Per Spot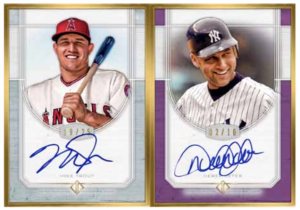 Minimum Hits: (61)
1 Invitation to the Hank Aaron VIP Experience
1 Oversized 1/1 Cut Signature Box Topper Card
1 Aaron Judge 1/1 Autograph Card featuring one of the 66 years of Topps designs
1 MVP Cut or MVP Auto or MVP Dual Auto (all 1/1)
1 Meticulously Honed 1/1 Anniversary Sketch Card
53 Additional Autograph Cards Numbered to 25 or Less
1 Base Set of 50 Iconic Cards Numbered to /87
1 Set of 65 Sketch Reproduction Cards Numbered to /87
1 Individually Numbered Transcendent BriefCase 
---
---
---
Break Rules: Participants names are entered into one randomizer and the 61 hits are entered into a second randomizer. We roll the dice and randomize both lists that many times. The two lists are then lined up to assign the cards to the participants
Sell Sheet Info: 17_Topps Transcendent Collection Baseball
---