Shop
Sale!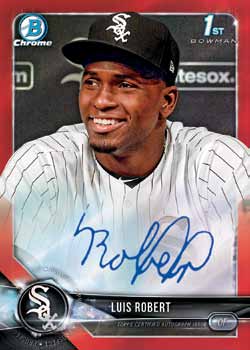 2
2018 Bowman Jumbo Baseball Single Box Random Teams #6
Out of stock
Break Type

Random Teams – Participants names and team names are entered into the randomizer on random.org… The lists are then randomized individually dependent on a roll of the dice. Both lists are then copied and pasted into a spread sheet. The participant on the left is matched with the corresponding team on the right. All cards pulled for that team belong to the owner.

Description

Two Lucky Participants from this break will win a spot in our 2018 Bowman Jumbo Baseball Case Random Teams #24

Youtube Live Feed: FirehandCards Live on Youtube

Breakers.tv Live Feed: FirehandCards Live on Breakers

---

Break Type: Random Teams Single Box

Total Spots: 20 – 10 Solo Team Spots & 10 Combo Spots of 2 Teams Each (TBD)

Minimum Hits: 3 Autographs + Refractors, Inserts, & Chrome Base

---

Configuration: 8 boxes per case. 12 packs per box.

2018 Bowman will be better than ever before by featuring the following product improvements:
– 2 NEW 2018 Bowman Sterling Continuity insert card guaranteed per Hobby Jumbo box HOBBY SKUs ONLY
– NEW insert subsets focused on the game's elite prospects and biggest 2018 rookies, each with an assortment of color refractor parallels
– Dual Bowman Prospect Autograph Cards, showcasing dual on-card autographs of the game's future stars HOBBY SKUs ONLY

  

AUTOGRAPH CARDS
The 2018 Bowman Baseball Hobby Box will continue to deliver 1 autograph card per box.Prospect Autographs
Featuring ON-CARD autographs of the top prospects of MLB.Chrome Rookie Autographs
Autograph variations of the Rookie Base Cards on chrome technology with ON-CARD autographs.

ROY Favorites Autographs
Highlighting top 2018 rookies with a limited edition autograph card. HOBBY SKUs ONLY

ADDITIONAL AUTO CONTENT
Rare new autograph subsets have been added to this year's release which will showcase the game's biggest names and stars.

Dual Bowman Prospect Autograph NEW! HOBBY SKUs ONLY
Look for sequentially numbered, double-sided autograph cards featuring elite prospects.

All-America Game Autographs HOBBY SKUs ONLY
Showcasing today's top prospects from past high school All-America showcases.

2018 Bowman Sterling Continuity Autographs NEW! HOBBY SKUs ONLY
On-card autograph variations of the Sterling-branded continuity set.