Description
Youtube Live Feed: FirehandCards Live on Youtube
Breakers.tv Live Feed: FirehandCards Live on Breakers
---
Break Type: Random Players Single Box
Total Spots: 227 ~ 1 Random Player Per Spot from the List Below
**Any cards of players that are not on the list of 231 will be randomized among all participants in the break
Minimum Hits: 7 Autographs, 2 Memorabilia Cards, 1 Jewel Embedded Base Card
---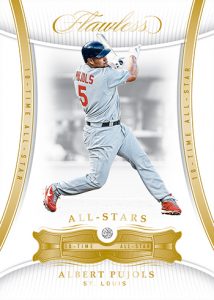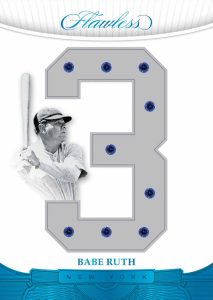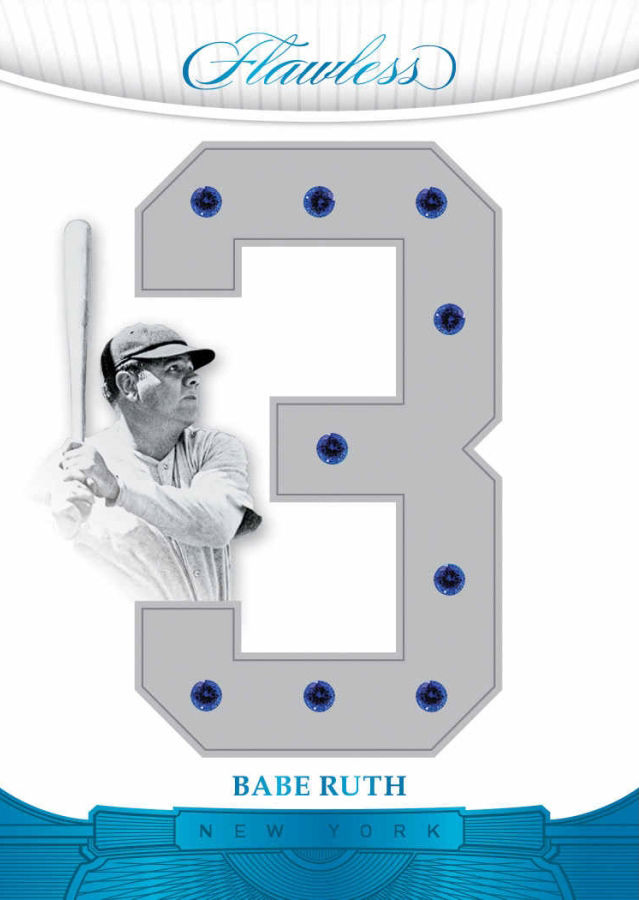 ---
Configuration: 2 boxes per case. 1 pack per box. 10 cards per pack.
BOX BREAK
– 7 Autographs
– 2 Memorabilia
– 1 Jewel Card
---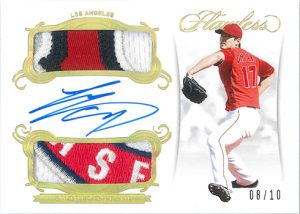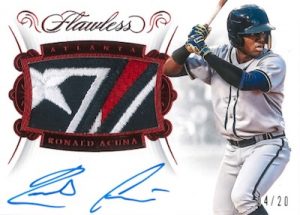 ---
PRODUCT HIGHLIGHTS
– Our new Base set includes only the most collectible legends, superstars and rookies with cards numbered to 20 (Base), 3 (Pink), and 1 (Black)
– Look for oversized memorabilia like Spikes, Bat Knobs, Bat Barrels!
– Find on-card autographs of the 2018 rookie class, all #'d/25 or less!
– Find jumbo swatches of material from legends like Babe Ruth, Mel Ott, Jackie Robinson, and more in Jumbo Legends.
– New this year is the rare Legends Gems, a 5-card set that features Babe Ruth, Lou Gehrig, Mickey Mantle, and Joe DiMaggio paired with Sapphires.
---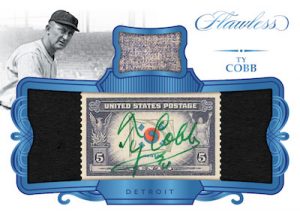 227 Player List:
Aaron Judge
Adam Duvall
Addie Joss
Addison Russell
Adrian Beltre
Adrian Gonzalez
AJ Hinch
Al Kaline
Alan Trammell
Albert Pujols
Alex Gordon
Alex Rodriguez
Alex Verdugo
Amed Rosario
Andre Dawson
Andres Galarraga
Andrew Benintendi
Andrew McCutchen
Andy Pettitte
Anthony Rizzo
Austin Hays
Austin Meadows
Babe Ruth
Barry Larkin
Bernie Williams
Bert Blyleven
Bo Bichette
Bob Meusel
Bobby Doerr
Brandon Belt
Brendan McKay
Brendan Rodgers
Brooks Robinson
Bruce Sutter
Bryce Harper
Buster Posey
Byron Buxton
Cal Ripken
Carl Furillo
Carlos Correa
Carlos Gonzalez
Carlos Martinez
Carlton Fisk
Chance Sisco
Charlie Blackmon
Charlie Gehringer
Charlie Keller
Chris Sale
Christy Mathewson
Clayton Kershaw
Clint Frazier
Cody Bellinger
Corey Kluber
Craig Biggio
Daniel Murphy
Darryl Strawberry
Dave Concepcion
David Ortiz
David Ross
Dennis Eckersley
Don Drysdale
Don Mattingly
Duke Snider
Dustin Fowler
Dustin Pedroia
Dwight Gooden
Edd Roush
Eddie Collins
Eddie Mathews
Eddie Murray
Eddie Stanky
Edgar Martinez
Edwin Encarnacion
Eloy Jimenez
Elston Howard
Eric Hosmer
Eric Thames
Estevan Florial
Evan Longoria
Felix Hernandez
Fernando Tatis Jr.
Francisco Lindor
Francisco Mejia
Frank Chance
Frank Thomas
Fred Lynn
Freddie Freeman
Gary Carter
Gary Sanchez
Gary Sheffield
Gaylord Perry
George Brett
George H. W. Bush
George Kelly
George Springer
Gerrit Cole
Giancarlo Stanton
Gleyber Torres
Greg Maddux
Hack Wilson
Hank Greenberg
Harmon Killebrew
Herb Pennock
Honus Wagner
Hoyt Wilhelm
Ichiro
Ivan Rodriguez
J.P. Crawford
Jack Flaherty
Jackie Robinson
Jacob deGrom
Jake Arrieta
Jeff Bagwell
Jim Rice
Jimmie Foxx
Joe Carter
Joe Cronin
Joe DiMaggio
Joe Sewell
Joey Votto
John McGraw
John Smoltz
Jorge Posada
Jose Abreu
Jose Altuve
Jose Berrios
Jose Canseco
Jose Ramirez
Josh Donaldson
Juan Gonzalez
Juan Soto
Justin Turner
Justin Verlander
Keith Hernandez
Ken Griffey Jr.
Ken Griffey Sr.
Kenta Maeda
Kiki Cuyler
Kirby Puckett
Kris Bryant
Larry Doby
Lee Smith
Lefty Gomez
Leo Durocher
Lou Brock
Lou Gehrig
Lou Whitaker
Luis Robert
Madison Bumgarner
Manny Machado
Marcell Ozuna
Mariano Rivera
Mark McGwire
Masahiro Tanaka
Max Scherzer
Mel Ott
Michael Conforto
Mickey Mantle
Miguel Andujar
Mike Mussina
Mike Piazza
Mike Trout
Nick Senzel
Nick Williams
Nolan Arenado
Nolan Ryan
Nomar Garciaparra
Nomar Mazara
Omar Vizquel
Orlando Cepeda
Ozzie Albies
Ozzie Smith
Paul Molitor
Paul Waner
Pedro Martinez
Pee Wee Reese
Pete Rose
Rafael Devers
Reggie Jackson
Rhys Hoskins
Rickey Henderson
Roberto Alomar
Roberto Clemente
Robin Yount
Roger Bresnahan
Roger Clemens
Roger Maris
Rogers Hornsby
Ron Santo
Ronald Acuna Jr.
Ryan McMahon
Ryne Sandberg
Salvador Perez
Sam Crawford
Satchel Paige
Scott Kingery
Shohei Ohtani
Stan Musial
Stephen Piscotty
Ted Simmons
Ted Williams
Terry Francona
Thurman Munson
Tim Tebow
Tom Glavine
Tom Seaver
Tony Gwynn
Tony Lazzeri
Trea Turner
Trevor Story
Trey Mancini
Tris Speaker
Ty Cobb
Victor Robles
Vladimir Guerrero Jr.
Walker Buehler
Walter Johnson
Warren Spahn
Whitey Ford
Willie Calhoun
Willie McGee
Willy Adames
Xander Bogaerts
Yadier Molina
Yoenis Cespedes
Yogi Berra
Yu Darvish