Description
This Break Qualifies for the NFL Shield Bounty Promo!
---
If your team hits a Full Size Shield in this case break you will win the bounty reward of Firehand Points. If there is no Shield pulled in this break the bounty will increase by $50 for the next NFL Shield Promo break.
**Check the Marquee at the top of the site for current Bounty Prize Total.
---
Youtube Live Feed: FirehandCards Live on Youtube
Breakers.tv Live Feed: FirehandCards Live on Breakers
---
Break Type: Pick Your Teams Case (8 Boxes)
Total Spots: 32 – All NFL Teams In
Minimum Hits:  40 Autograph or Memorabilia Cards + Inserts, Parallels, Rookies
---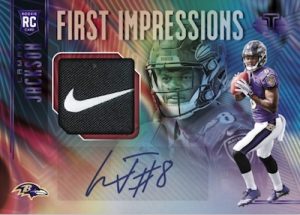 ---
Configuration: 8 boxes per case. 10 packs per box. 5 cards per pack.
BOX BREAK:
– 1 Autographed Memorabilia Card
– 2 Autographed Cards (1 In A Silver-Wrapped Box Topper)
– 2 Memorabilia Cards
– 6 Base Parallels
– 3 Insert Parallels
– 5 Inserts
---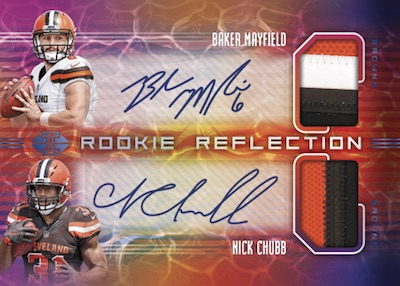 ---
PRODUCT HIGHLIGHTS
– Illusions Football returns in 2018 with more parallels and a larger variety of autographs! Illusions takes you back to the 1990s and 2000s while also taking advantage of new technology to bring collectors a one-of-a-kind product.
– Each box will include 1 autographed memorabilia card, 2 autographs (1 in a silver-wrapped box topper), and 2 memorabilia cards.
– Look for dual-signed cards from: Rookie Dual Signs, Rookie Reflection Dual Autographs, and Mirror Dual Signatures. Other autographs include First Impressions Memorabilia Autographs, Rookie Signs, Veteran Signs, Rookie Endorsements, and the popular Elusive Ink!
– Memorabilia sets include First Impressions Memorabilia, Spotlight Memorabilia, Rookie Reflection Dual Patch, Legacies Dual & Triple Memorabilia, and Rookie Idols Dual Memorabilia.
– New for 2018: Rookie Endorsements Auto Variations, Illusionists Autographs, Mystique Autographs, and Living Legends Autographs (all only found in the box topper)!
---