Shop
You cannot add "2023 Bowman Chrome Baseball Hobby 12 Box Case Random Teams #7" to the cart because the product is out of stock.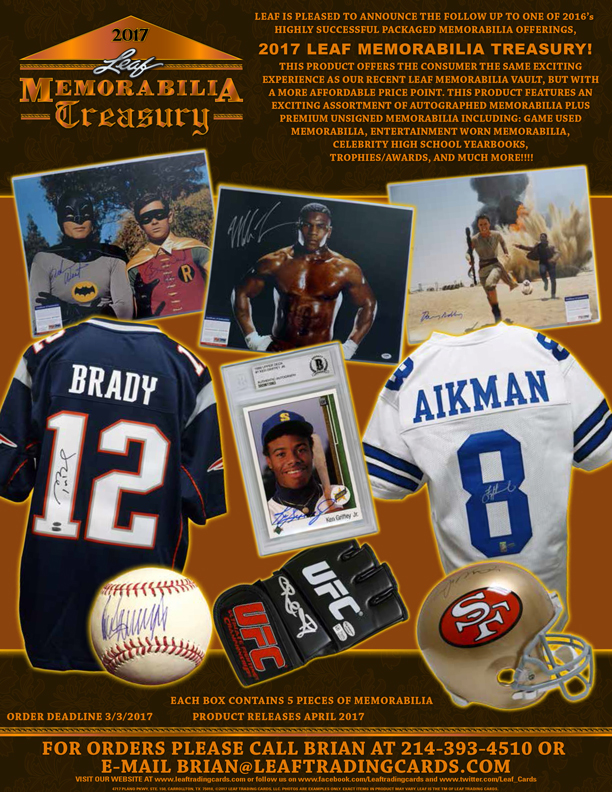 1
2018 Leaf Memorabilia Treasury Random Hits Box Break #4
$109.95
Out of stock
Break Type

Random Hits: Participants names are entered into one randomizer and the 5 hits are entered into a second randomizer. We roll the dice and randomize both lists that many times. The two lists are then lined up to assign the items to the participants.

Description

Breaker: Chad

Youtube Live Feed: FirehandCards Live on Youtube

Breakers.tv Live Feed: FirehandCards Live on Breakers

---

Break Type: Random Hits Box/Case

Total Spots: 5 – 1 Guaranteed Memorabilia Item Per Spot

Minimum Hits: 5 Memorabilia Items

---

PRODUCT DESCRIPTION: 5 Items Per Box

Once Again This Release Contains A Vast Assortment Of Highly Collectible Memorabilia Items!!

IN THIS RELEASE LOOK FOR EXCITING ITEMS INCLUDING:
– Signed Baseballs, Signed Baseball Bats & Baseball Jerseys
– Signed Basketballs & Signed Basketball Jerseys
– Signed Footballs & Signed Football Jerseys
– Signed Football Mini Helmets
– Signed Full Size Football Helmets
– Signed Boxing Gloves
– Signed Hockey Jerseys
– Popular Tickets/Ticket Stubs
– Signed Championship Belts
– Signed Political Documents
– Signed Political Photos
– Signed Photographs From All Sports
– Signed Music Albums & Signed Guitars
– Signed Microphones
– Signed Entertainment & Music Photos
– Signed Movie Props
– Signed Funko Pops
– Movie Worn & Television Worn Costumes
– Signed Original Artwork
– Signed Comic Books
– Signed Posters
– Celebrities & Athlete's High School Yearbooks
– AND TONS MORE!!!!

Each Box Contains 5 Different Memorabilia Items!!