Description
This Break Qualifies for the NFL Shield Bounty Promo!
---
If your team hits a Full Size Shield in this case break you will win the bounty reward of Firehand Points. If there is no Shield pulled in this break the bounty will increase by $50 for the next NFL Shield Promo break.
**Check the Marquee at the top of the site for current Bounty Prize Total.
---
Youtube Live Feed: FirehandCards Live on Youtube
Breakers.tv Live Feed: FirehandCards Live on Breakers
---
Break Type: Pick Your Teams Case (15 Boxes)
Total Spots: 32 – All NFL Teams In
Minimum Hits:  45 Autograph or Memorabilia Cards + Base, Parallels, Rookies
---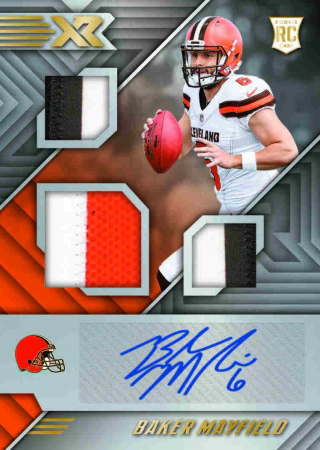 ---
Configuration: 15 boxes per case. 2 packs per box. 7 cards per pack.
BOX BREAK:
– 2 Autos
– 1 Memorabilia
On Average. Each Box Will Guarantee 1 Rookie Autograph Jersey, 1 Rookie/vet/retired Auto, 1 Rookie Jumbo Or Triple Swatch Card, 1 Insert, 4 Parallels, 4 Base, And 2 Rookies
---