Description
This Break Qualifies for the NFL Shield Bounty Promo!
---
If your team hits a Full Size Shield in this case break you will win the bounty reward of Firehand Points. If there is no Shield pulled in this break the bounty will increase by $50 for the next NFL Shield Promo break.
**Check the Marquee at the top of the site for current Bounty Prize Total.
---
Youtube Live Feed: FirehandCards Live on Youtube
Breakers.tv Live Feed: FirehandCards Live on Breakers
---
Break Type: Random Teams Case
Total Spots:  29 – 26 Solo Team Spots & 3 Combos of 2 Teams Each (TBD)
Minimum Hits:  30 Autograph or Memorabilia Cards + 6 Base or Parallels
---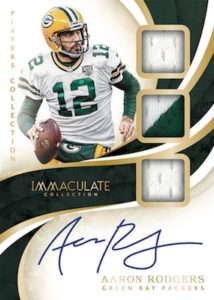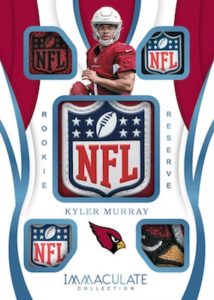 ---
Configuration: 6 Boxes Per Case, 1 pack per box. 6 cards per pack.
BOX BREAK:
– 5 Autograph or Memorabilia Cards
– 1 Base or Parallel Card
---
PRODUCT HIGHLIGHTS
– Look for on-card autographs of all the top rookies and legends the NFL as to offer. Find some of the first on-card patch autographs of Kyler Murray, Daniel Jones, Dwayne Haskins, Marquise Brown and many more!
– Pull on-card signed memorabilia cards in Rookie Patch Autographs, Premium Patch Rookie Autographs, Immaculate Players Collection Autographs, Immaculate Number Rookie Patch Autographs and more!
– Look for oversized memorabilia cards, which include Team Logos, Brand Logos, Laundry Tags, NFL Shields and more!
– New on-card signed inserts include Pro Bowl Signatures, Marks of Greatness and Draft Class Signatures. Also new in 2019 look for Eye Black triples which feature some of the top trios in the NFL.
– Chase a new memorabilia insert with Immaculate Monuments, which features a Mount Rushmore-esque design with a players list that only includes the best of the best!
---