Description
This Break Qualifies for the NFL Shield Bounty Promo!
---
If your team hits a Full Size Shield in this case break you will win the bounty reward of Firehand Points. If there is no Shield pulled in this break the bounty will increase by $50 for the next NFL Shield Promo break.
**Check the Marquee at the top of the site for current Bounty Prize Total.
---
Youtube Live Feed: FirehandCards Live on Youtube
Breakers.tv Live Feed: FirehandCards Live on Breakers
---
Break Type: Random Teams Half Case (4 Boxes)
Total Spots: 29 – 26 Solo Team Spots & 3 Combos of 2 Teams Each 
Minimum Hits: 40 Autograph or Memorabilia Cards + Base (All Cards Ship)
---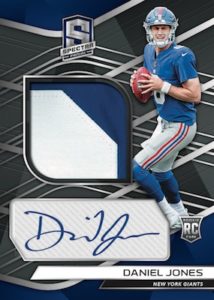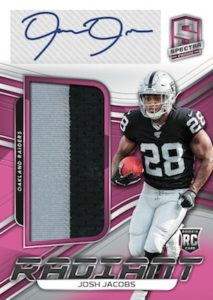 Configuration: 8 boxes per case. 4 pack per box. 4 cards per pack.
PRODUCT HIGHLIGHTS
– Spectra returns in 2019 and includes 4 autographs, 6 memorabilia cards and 5 base/parallels per box on average.
– New for 2019 – find the Psychedelic parallel, which is max #'d to 5 and features a unique design with vibrant colors.
– New inserts in 2019 Spectra include Sky High Signatures, Afterburners, Tom Brady Tribute, Masked Marvels, Rookie Aura and High Voltage.
– Look for on-card autographs with Super Bowl Champion Signatures, Illustrious Legends, Sky High Signatures, Vested Veterans and Tom Brady Tribute.
– Hunt for Rookie Patch Autographs from all the top future stars of the NFL, including Kyler Murray, Daniel Jones, Dwayne Haskins, and Marquise Brown.
BOX BREAK:
– 4 Autographs
– 6 Memorabilia Cards
– 5 Base/Parallels
– 1 Insert