Description
Youtube Live Feed: FirehandCards Live on Youtube
Breakers.tv Live Feed: FirehandCards Live on Breakers
---
Break Type: Random Players Case (20 Boxes)
Total Spots: 44 – 3 Players Per Spot !!
**You Will Get 1 Player from the Base Auto List and 2 From the Insert Auto List**
Minimum Hits: 20 Encased Autograph Cards
---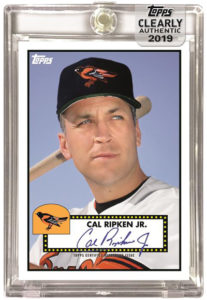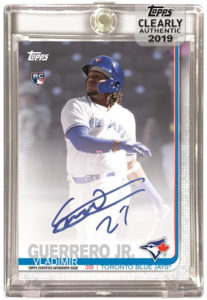 ---
Configuration: 20 boxes per case. 1 pack per box. 1 card per pack.
Topps Clearly Authentic Baseball is back by popular demand this season. This year, we will be combining clear, acetate card technology with on-card autographs from the hottest rookies and superstar sensations in Major League Baseball.
Clearly Authentic will incorporate the base card design from 2019 Topps Baseball, as well as some of the most iconic Topps Baseball cards and designs of all time, into a product offering that delivers one autograph per box. All cards will be encased, with autographs signed directly on card.
---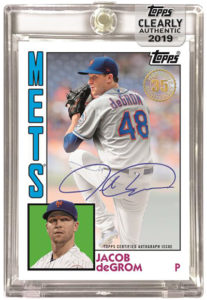 ---
Base Set Checklist: (1 Player from this list per spot)
Brandon Lowe
Carter Kieboom
Cedric Mullins
Chris Sale
Christin Stewart
Cole Tucker
Corbin Burnes
Daniel Ponce de Leon
Danny Jansen
Dereck Rodriguez
Eloy Jimenez
Fernando Tatis Jr.
Francisco Lindor
Freddie Freeman
George Springer
Jean Segura
Jesus Aguilar
Jose Martinez
Juan Soto
Justus Sheffield
Kevin Kramer
Kris Bryant
Kyle Tucker
Kyle Wright
Lane Thomas
Max Muncy
Michael Chavis
Michael Kopech
Mike Trout
Paul Goldschmidt
Peter Alonso
Rhys Hoskins
Ronald Acuña Jr.
Rowdy Tellez
Salvador Perez
Sean Manaea
Sean Reid-Foley
Shane Bieber
Shohei Ohtani
Thairo Estrada
Tim Anderson
Touki Toussaint
Vladimir Guerrero Jr.
Yusei Kikuchi
---
Insert Auto Checklist: (2 Players Per Spots from this list)
Aaron Judge
Adrian Beltre
Al Kaline
Alan Trammell
Alex Rodriguez
Andre Dawson
Andrew McCutchen
Andy Pettitte
Anthony Rizzo
Barry Larkin
Bert Blyleven
Blake Snell
Bo Jackson
Bob Gibson
Brandon Nimmo
Buster Posey
Cal Ripken Jr.
Carl Yastrzemski
Carlton Fisk
Chipper Jones
Christian Yelich
Clayton Kershaw
Dale Murphy
Darryl Strawberry
David Ortiz
Dennis Eckersley
Derek Jeter
Don Mattingly
Don Sutton
Dwight Gooden
Frank Thomas
Hank Aaron
Hideki Matsui
Ichiro
Ivan Rodriguez
Jack Flaherty
Jacob deGrom
Jason Varitek
Javier Baez
Jeff Bagwell
Jim Rice
Joey Votto
Johnny Bench
Johnny Damon
Jorge Posada
Jose Altuve
Jose Berrios
Jose Canseco
Jose Ramirez
Juan Gonzalez
Juan Marichal
Justin Smoak
Kerry Wood
Kyle Schwarber
Lou Brock
Mariano Rivera
Mark McGwire
Matt Olson
Miguel Andujar
Mike Piazza
Miles Mikolas
Mitch Haniger
Noah Syndergaard
Nolan Ryan
Nomar Garciaparra
Ozzie Albies
Ozzie Smith
Paul DeJong
Pedro Martinez
Rafael Devers
Reggie Jackson
Rick Ankiel
Rickey Henderson
Roberto Alomar
Rod Carew
Roger Clemens
Ryne Sandberg
Sandy Koufax
Steve Carlton
Tom Glavine
Trevor Story
Trey Mancini
Victor Robles
Vladimir Guerrero
Wade Boggs
Whit Merrifield
Will Clark
Willson Contreras