Description
– FOTL Exclusive: 1 Pen Pals Black Gold, Pen Pals Dual Black Gold, or Turn of the Century Black Gold Autograph #'d /25 AND 1 Gold Parallel #'d /10!
---
Youtube Live Feed: FirehandCards Live on Youtube
Breakers.tv Live Feed: FirehandCards Live on Breakers
---
Break Type: Random Teams (3 Boxes)
Total Spots: 29 – 26 Solo Team Spots & 3 Combos of 2 Teams Each (TBD)
Minimum Hits: 6 Autographs & 3 Memorabilia Cards + Rookies, Parallels, & Inserts
*All Cards Ship for Your Team(s)
---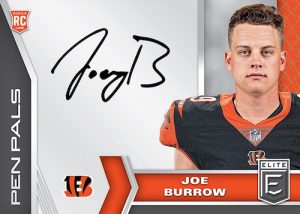 Configuration:
20 packs per box. 5 cards per pack.
PRODUCT HIGHLIGHTS
– One of the season's most exciting brands comes packed with new inserts, new designs, and all the top rookies from the highly touted 2020 NFL Draft!
– Chase all the new NFL rookie cards, featuring them in their professional uniforms for the first time!
– The always anticipated Pen Pals and Pen Pals Dual, featuring on-card autographs of the top rookies, return to highlight the 2020 NFL Rookie Class with black, blue, green, red and the new purple ink variations! One per box, on average!
– Collect the entire 100-card 2000 Elite set, a throwback to Tom Brady's rookie year! With 50 rookies and 50 veteran/retired players, this throwback design will feature Aspirations and Status parallels, all #'d/99 or less!
– Chase one of the most collectible rookie autograph sets of the year in Turn of the Century Autographs, all #'d/199 or less!
---
BOX BREAK:
– 2 Autographs (One Pen Pal Auto)
– 1 Memorabilia
– 3 Rookies
– 6 Parallels
– 8 Inserts