Shop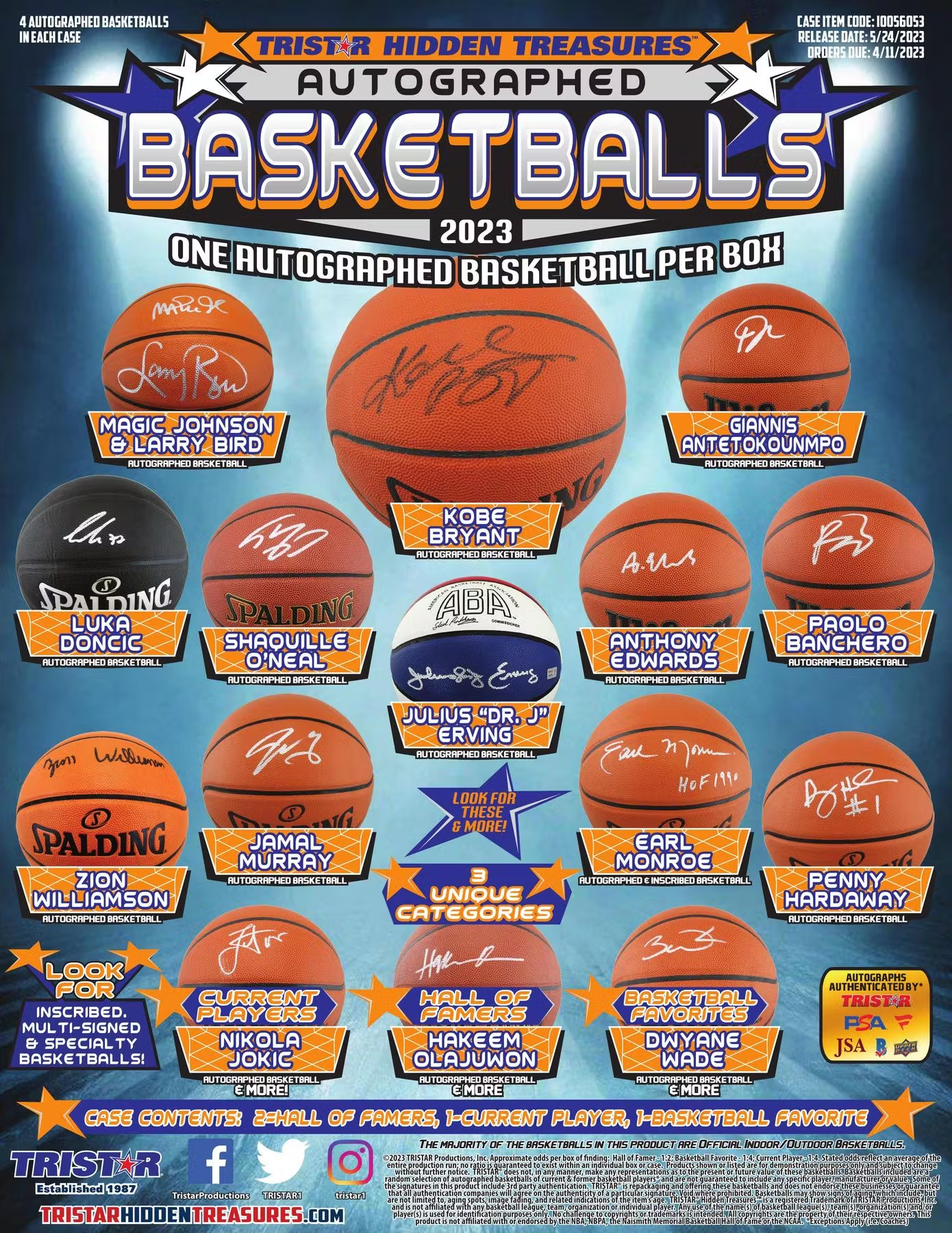 1
2023 Tristar Hidden Treasures Autographed Basketballs Random Letters Box #9
SKU:

23 tristar basketballs 9
$11.95
Out of stock
Break Type

Random Letters: Participants names and Letter Spots are entered into the randomizer on random.org… The two lists are then randomized individually dependent on a roll of the dice. Both lists are then copied and pasted into a spread sheet. The participant on the left is matched with the corresponding Letter(s) on the right. The Letters correspond to the First letter of the subject's last name as it appears on the card/item. Any cards/items pulled belong to the participant who owns the matching letter spot.

Description

---

Break Type: Random Letters Single Box

Total Spots: 21 – 1 Random Letter or 2 Letter Combo Per Spot (Full 21 Spot List Below)

**Letters Correspond to the First Letter in the Last Name of the Subject as it appears on the card
**There are 18 individual Letter Spots, and 3 Combo Spots…  No 'Q or X'

Minimum Hits: 1 Autographed Basketball

---

21 Letter Spots:

A
B
C
D
E
F
G
H
J
K
L
M
N
O, Z
P
R
S
T
U, V
W
Y, I

---

Configuration: 4 boxes per case. 1 autographed ball per box

– Guaranteed One Autographed Basketball Per Box!
– Look for Multi-signed & Specialty Basketballs!
– 3 Unique Categories – Current Players, Hall of Famers & Basketball Favorites!

Look For Basketballs Signed By:
– Kobe Bryant
– Dwyane Wade
– Luka Doncic
– Magic Johnson
– Larry Bird
– Giannis Antetokounmpo
– Zion Williamson
– Shaquille O'neal
– Anthony Edwards
– Paolo Banchero
– Julius "Dr. J" Erving
– Jamal Murray
– Earl Monroe
– Penny Hardaway
– Nikola Jokic
– Hakeem Olajuwon
– And More!